The coronavirus pandemic has impacted human lives to such an extent that people fear going out even to buy essentials. Instead of visiting a local grocery store, fashion outlet, or any other place, people started to incline towards online platforms to meet their day-to-day needs.
No doubt these platforms provide them the convenience of shopping without being vulnerable to the virus, but coming in contact with delivery persons to collect orders was also a risk. The entire situation created a need for adopting a solution using which packages can be delivered without getting in touch with a human.
That's when both the retail and online stores felt the need for offering contactless delivery services to their customers. Integrating this feature has resulted in a big spike in business sales. In no time, contactless delivery became the new normal for every business. It would be no wrong to say that contactless delivery has become necessary for the business growth and survival.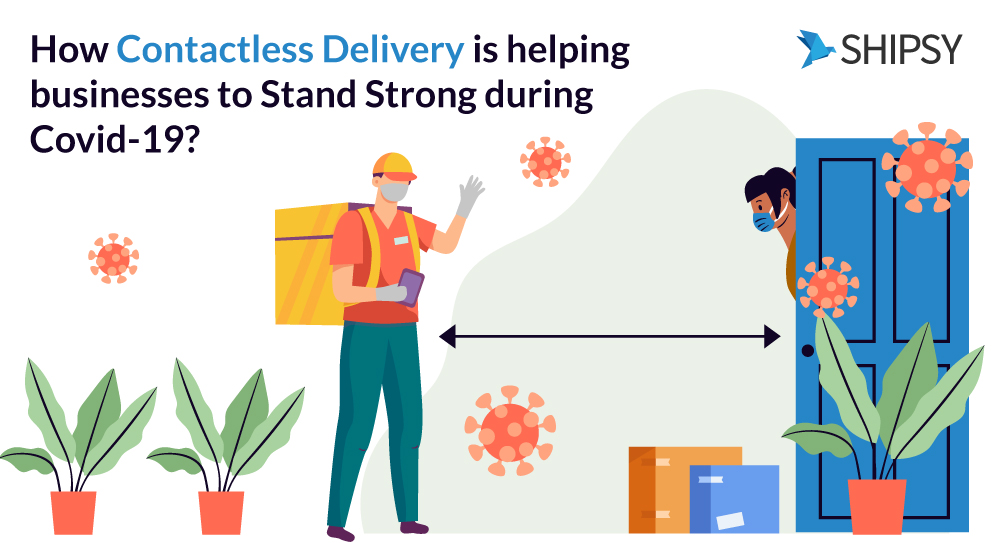 These are some of the key advantages of contactless delivery that is making bringing businesses to back on track:
1. Offers complete customer convenience
Even if we talk about pre-COVID times, the customers' convenience was one of the major things businesses used to pay attention to. That's because it contributes directly to customer satisfaction, which is the ultimate goal of a business. Contactless delivery offers customers the same level of comfort and convenience, while giving them the option to receive their orders within their preferred time slot.
2. Business growth and profitability
Contactless delivery helps to grow and expand business. It is simple, the more convenience or safety assurance you will provide to your customers, the more they rely on your business. This feature will also help your business to gain the trust of customers as they will think that you care for them.
3. Reduced risk of spreading coronavirus
The only way to protect ourselves from this pandemic is to maintain social distancing. By offering contactless delivery to your customers, you can make sure that they don't have to deal with the delivery agents, not even for the proof of delivery. They can just leave the package and use the "Contactless delivery through photo capture" option for collecting and uploading the POD.
4. Employee safety
Not just for the customers, a good business also thinks about its employees. With contactless delivery, you are protecting both the customer and the delivery agent to come in contact, which will ultimately reduce the risk of spreading the virus.
5. Makes your business ready for the future
It's an old saying that "if your business is not online, you may be out of business soon". Now, in the time of COVID, when physical stores are the one to get most affected, we cannot agree more to this statement. In short, you have to move your business to the online world to increase your customer reach for selling your products and services.
Since customers are adopting this new trend of shopping and making payments online, physical stores may be out of the scene soon. Contactless delivery service that comes as a part of logistics management software also offers customers the option to make payments online. By integrating one such solution to your business, you can take the first step towards the digital readiness.
(Please note that contactless delivery alone is not sufficient to ensure the safety of the customers. Businesses have to opt-in for other measures, such as regular sanitation of warehouses & goods and timely health check-up of their employees and delivery agents.)
How can businesses adopt contactless deliveries?
"How can I integrate the contactless delivery feature in my business app or website?" This would probably be one of the most common questions businesses are entering in the search engines. Be it fashion, grocery, electronics, electrical, or any other retailer, everyone wants to retain their customer by offering them the option for choosing contactless delivery service at the time of purchase.
Not all of them find their way; there are many business owners who are still struggling to implement this feature to their existing system. Here comes Shipsy to your rescue. With a contactless delivery service available as a part of Shipsy's logistics management software, you can make your customers shop and receive their orders without getting in touch with the delivery person.
You might also be interested in- How To Choose The Best Logistics Management System?
How contactless delivery feature, available in Shipsy's LMS, works?
The logistics management software provided by Shipsy has a driver app, where the assigned drivers can check customers' preferences such as preferred time for delivery, mode of payment, and contactless delivery. The last service, i.e. contactless delivery is done through any of the following ways:
Contactless delivery through photo capture
1. Once the consignment is out for delivery, the customer receives a notification and using the tracking link they can check ETA.
2. Driver, after arriving at the destination, places the parcel at doorstep and captures one or more photos for proof, which is then uploaded to the app under proof of delivery (POD) section.
Contactless delivery through OTP
1. The customer receives an OTP once the shipment is out for delivery.
2. After the delivery agent drops the parcel at customers' doorstep, they can share the OTP to complete the delivery process without coming in physical contact with the agent.
Contactless delivery by requesting for online payment link
In case of the COD orders, the customers can still request for an online payment link and pay the amount through the same.
Besides offering contactless delivery, the software also offers many other exceptional features such as AWB generation, track consignment, automatic mapping of consignments with vehicles, and route optimization, which all makes you get 100% customer satisfaction and reduce RTO.
So, why wait? Reach out to Shipsy and get tailor-made software for your specific business requirements.
Also Read- How Logistics Software Solution Can Help Your Business To Deliver Excellent Customer Experience?